Halloween is just around the corner. What else can be the best time to take out all those creepy props that have been lying in the cupboard all year round?
Decorating the home for Halloween is all fun when you know how to decorate the house. Everything you place plays an important role in giving the creepy Halloween vibes. This occasion is all about creativity, and creativity never means spending $$$ on everything that seems harrowing. You can enjoy the essence of Halloween on budget.
Incense is one of the most important parts of the Halloween occasion. Incense burners are available in some freaky designs that actually enhance the fun of the occasion. The good news is - they are available at reasonable prices. Let us dive in to find out some crazy Halloween incense burners for the upcoming occasion.
Incense
If you are new to this term, let me introduce to you what incense is. It is an aromatic material usually obtained from plants that give out amazing fragrance when it is burned. Apart from filling the house with its fresh fragrance, incense also has positive effects on our minds as it gives a calming effect.
Some incense requires incense burners, as they cannot burn on their own. They are in powdered form and typically require charcoal and some other things to burn.
Incense Burner
Incense burner looks more like a decorative piece that comes in all shapes, colors, and sizes. You can find it in the simplest form to the complex aesthetically appealing pieces. These incense burners are also being made for specific occasions. You can easily find a lot of Halloween incense burners in the market.
Let us look at some of the most aesthetic and affordable options available.
Pumpkin Ceramic Backflow Incense Burner
If you are looking for a durable incense burner that also gives intense Halloween vibes, you will definitely love this handmade pumpkin ceramic incense. It is a backflow incense burner that can be placed anywhere. The vivid colors of this burner go along with the Halloween theme.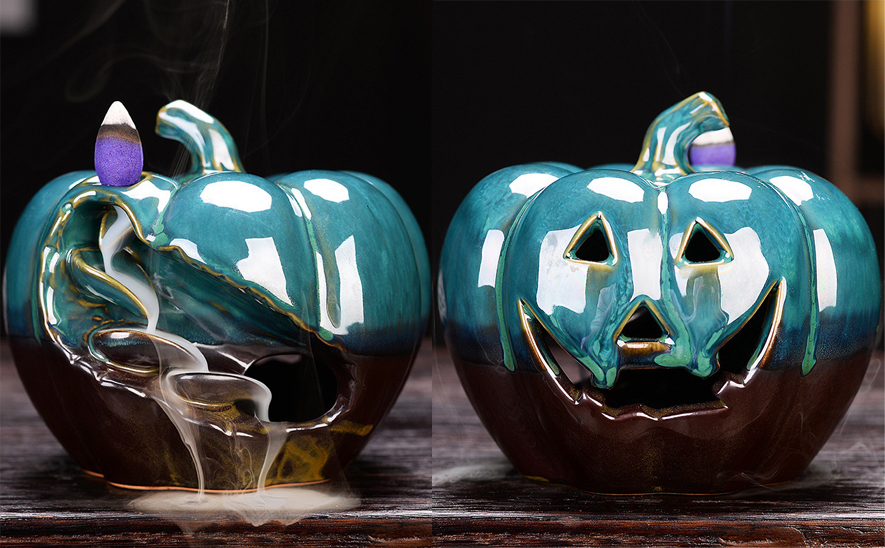 This burner is compact and can be placed anywhere in the house. Keep it on your study table while working to get the feeling of relaxation at the same time. Or just enjoy the mindfulness and yoga time by placing it right beside yourself.

This ceramic incense burner carries a cone on the top. Just place it at the top and allow your favorite fragrance to spread in the room. Merely seeing the incense flowing through the burner gives pleasure and a relaxing effect to the mind. Instead of flowing in the air, the smoke backflows in the burner, giving a beautiful waterfall feels.
Smoke flowing through the vivid colors and smooth curves of the pumpkin is enough to boost up the mood after a long tiring day.
With a natural scent and such calming scene of incense back flowing through the burner, you will feel everything at peace.
You can get this aesthetically appealing burner at your doorstep for just $39.99. This Halloween, bring this backflow pumpkin incense burner to your home to feel more at peace and to enjoy leisure time by relaxing in the natural scent of incense. You will definitely love this creepy yet aesthetic decor placed at your side table. Get it now to make it a part of your aromatherapy.
Skull Incense Burner - LED Waterfall Halloween Decoration

Are you looking for a dark decorative piece that is aesthetic and creepy at the same time? This skull incense burner is exactly what you need. This overall decorative piece is unique in its own style.
It consists of a base with a dark brown skull, top cover, and a cylindrical-shaped transparent plastic that makes the skull visible. All these units can be separated and joined together all over again.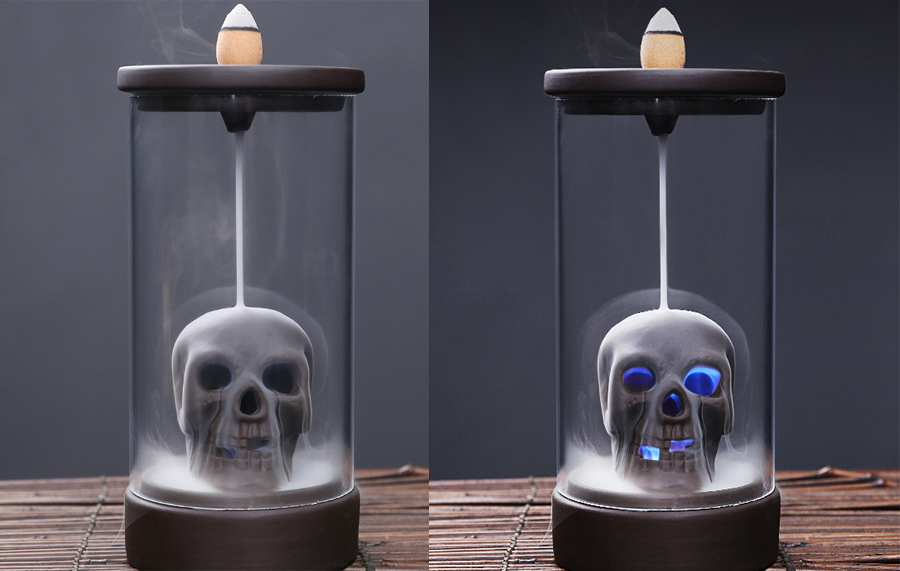 The base of this incense burner contains a key for turning on and off the built-in LED. Right on the base, you have to place the skull. When the LED illuminates through the skull, it gives real spooky vibes. On top of that goes the transparent plastic and the top cover.
Right on the top, there is a small hole that allows the backflow of the smoke. You have to place an incense cone on it. Smoke and LED through the skull make Halloween even better.
Apart from keeping it inside your home, you can also decorate it somewhere on the lawn during the Halloween party. With darkness all around, spooky costumes, horrible music, and smoke surrounding the skull, the night is made!
You will get relaxation in the spookiest way possible with this skull backflow incense fountain. It is not that hard to clean it afterward. Simply put boiling water on the whole piece to get rid of all the stains.
You can also gift this as a present to your loved ones for just $45.99. Just the perfect gift on the right occasion.
Skull LED Backflow incense burner

What else can be more horrifying and awful than an illuminating skull placed in a dark room with horrible music? Sounds like a perfect Halloween night, right? Right!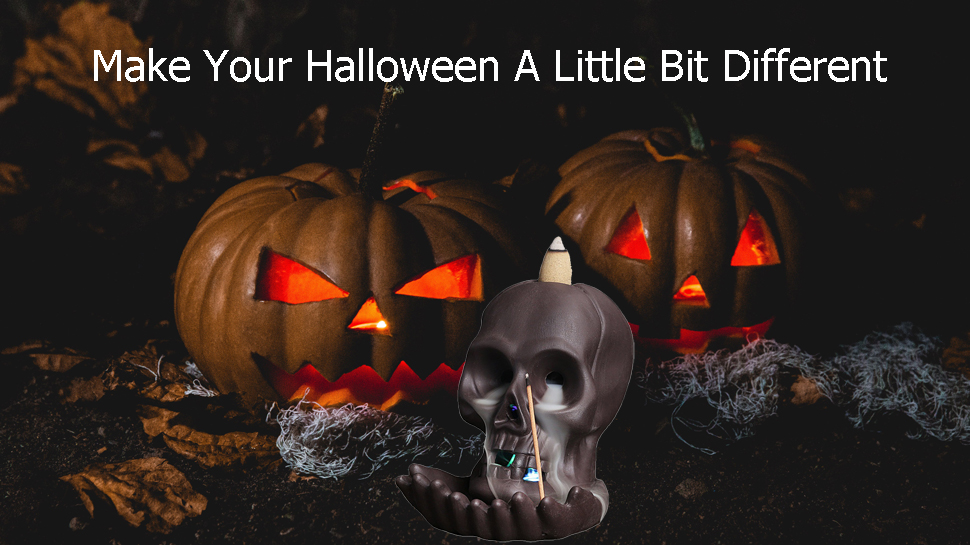 Bet no other prop in your Halloween party will be as creepy as this backflow skull incense burner. The realistic shape and curves of this skull make it more spooky. The best thing is that it is purely handmade manufactured with ceramic.
The incense cone has to be placed right on the top of the skull. Smoke from the cone travels through the hole underneath and falls from the eyes of the skull like a waterfall. The skull is placed on a tray on which the smoke falls.
To make it even more awful, LED lights are placed inside the skull. These lights illuminate from the nostrils and the missing tooth of the skull. Placed in a dark room, this skull alone is enough to scare everyone.
$36.99 is literally nothing for the value it gives. You can enjoy having this skull in your lounge, while practice mindfulness at the same time.
As if the skull was not giving enough creep vibes, a dragon on the top makes it look even more disturbing. Ceramic-made normal skull with a tooth missing has a dragon on its top. On the top of the dragon, there is a spot to place the igniting incense cone.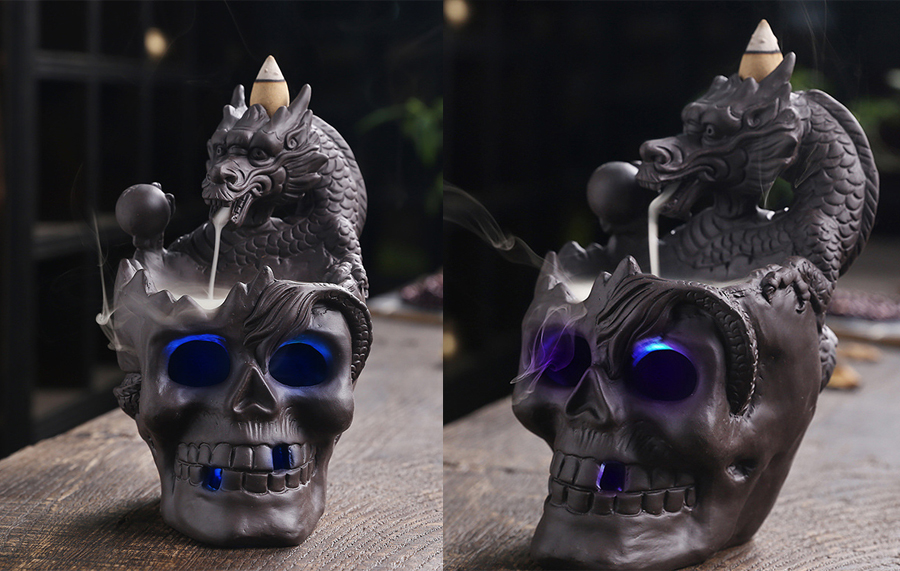 As the cone burns and produces smoke, the smoke moves through the dragon's mouth and is collected on the head of the skull. It feels like the dragon is vomiting smoke on the skull's head. Though creepy, all this looks so cool. It looks even more impressive when you turn on the LED light that illuminates the eyes and missing tooth of the skull. Turn off all the lights of the room to enjoy this creative Halloween décor.
When placed at the right spot with similar props, you see the real fun. Do not forget to turn on the creepiest music while the sweet scent of incense fills the atmosphere.
What else do you want for $49.99? No one would mind using this ceramic piece even after the occasion of Halloween. Working on a laptop while skull sits on the worktable seems like an exciting thing.
LED Backflow Incense Burner - Halloween Pumpkin

Enough of skulls all around? Why not get an incense burner with creepy illuminating pumpkin? You heard it right -illuminating pumpkin.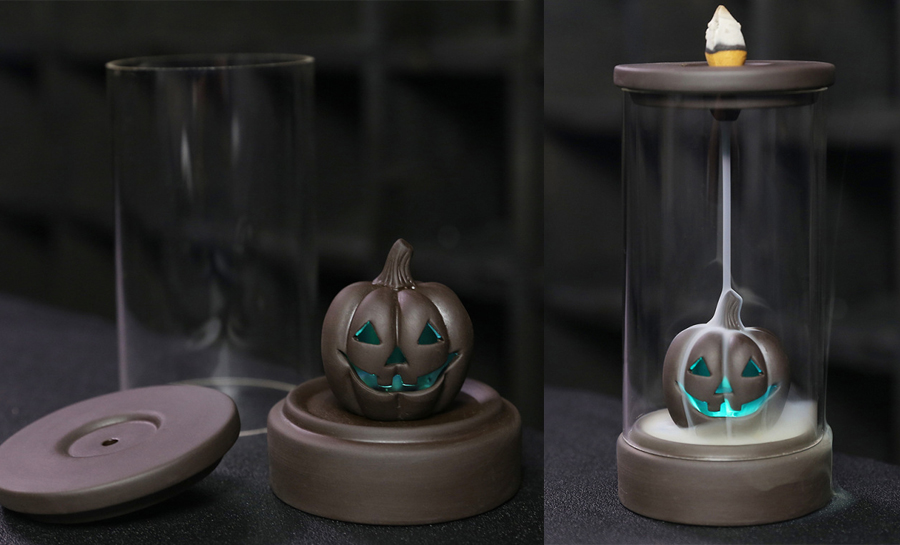 This incense burner has built-in LED lights that illuminate in six colors. The light illuminates through the pumpkin that sits on the base. From a cylindrical shape transparent plastic, you can have a clear view of dark brown spooky pumpkin sitting inside.

As the cone ignites on the top, the smoke travels all the way down and falls on the pumpkin. It feels more like a pumpkin bathing in smoke. The room all dark, illuminating pumpkin, and smoke falling on it looks so exciting.
This incense burner would be the center of attention even if you have spooky spider webs and skeletons all around. This incense burner can stay there on your favorite spot all year round.
It is one of the best gifts you can give to someone. You got two options; the one with a skull or pumpkin, you choose.
Why Should I have an Incense Burner?
Incense is really helpful in practicing mindfulness and while doing yoga and exercise. The natural scent of incense helps you keep relaxed and calm after a long day full of stress and anxiety. You can also ignite your favorite scent while working on a task that requires focus. It will definitely be very helpful in keeping you concentrated.
Enjoying natural fragrance and an aesthetic scene at the same time would be a perfect match. You can enjoy this by having a nice and elegant incense burner. A backflow incense burner provides you with an appealing scene while you relax.
Incense burners are quite easy to use. At the same time, you can clean them very easily. A relaxed mind, more concentration, appealing scene, and aesthetic look to the room; you can get all that by purchasing the right incense burner with a naturally soothing scent.
Incense is the best way to fill your house with natural fragrance. Since so many people are allergic to air fresheners, incense is the best natural solution. Not only it brings a fresh aroma, but it also helps to promote creativity and concentration. No matter what sort of work you do, try doing it with igniting incense next time. You will definitely feel the difference.
How to Use an Incense Burner?
You might already know, incense is available both in the form of cones and sticks. Igniting them is not that hard. Incense sticks are relatively easier to burn than cones. Just burn one end and place it carefully on a sand or clay plate. Let the smoke spread all around. You will feel the aroma coming your way in a matter of seconds.
As for the cones, you will need an incense burner, also commonly called an incense holder. You can pick a burner of your choice according to the occasion or from the ones listed above.
Once you get your hands on your favorite incense burner, place it in your house anywhere you like. Take out an incense cone and light up its top. After that, place it on the top of the holder. You can see from the instructions of the burner the exact location to put on the cone.
Backflow incense burners give a more aesthetic look to the room, and it also keeps you relax at the same time. The smoke continues to spread aroma as long as the cone lasts.
Cleaning an Incense Burner
Cleaning an incense burner is not a big task. Regular cleaning can be done by using a paper towel only. However, you need to deep clean the burner at least once a week. Hot water is the best solution to it.
In a tub of hot water, add a bit of soap and mix them very well. Place the incense burner in the tub and let it sit for about 15 minutes. If you still see some stains, rub them with a sponge. Take the burner out and rinse it with clean water. Dry it completely; it is ready touse again.
In Conclusion
While you prepare for the upcoming Halloween occasion, do not forget to have an aesthetic yet spooky incense burner in your lounge. You can relax while the incense burns and can enjoy the waterfall scene at the same time.
We hope this guide helped you in learning about incense, incense burner, and its use. We hope that you have also selected your favorite Halloween incense by now. Do not forget to leave a comment incase of any queries. We will love to know which of the above-listed Halloween incense grabbed your attention.